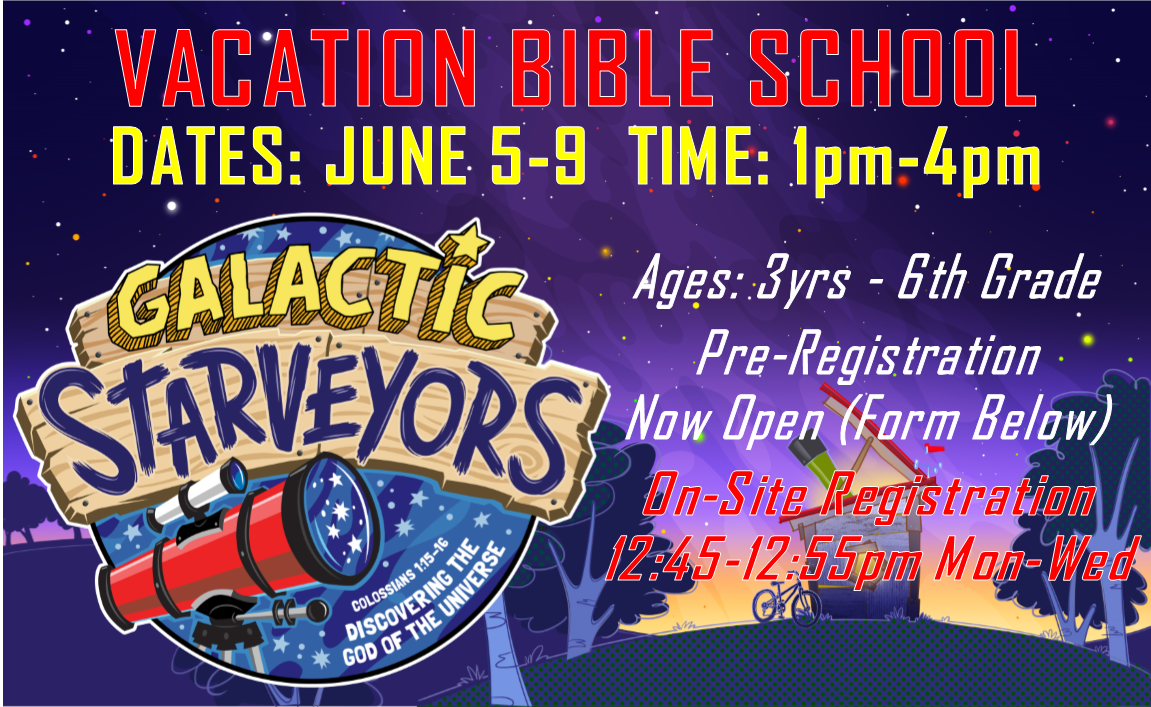 Discovering the God of the universe!
Dust off your telescope and discover the incredible mysteries of the final frontier—right from your backyard! Join us for a week of searching the visible to discover the invisible at Galactic Starveyors™. Kids will begin each day at Worship Rally. From Worship Rally, kids will gather at the Starveyors Clubhouse where they will explore God's Word. Each day kids will encounter amazing and wonderful things designed by a Creator who is even bigger than the vastness of His creation, as well as make crafts, play fun games, enjoy tasty snacks, sing cool songs, and learn about missions.. Kids will discover that the God who created everything there is—the knowable and the unknowable, the visible and the invisible—wants a relationship with them!
For more information on VBS and how you may get your children involved, contact the church office at:
6:00pm – Rally in the Sanctuary
6:45pm – Meal & Family Fun
will focus on these Christ-centered goals:
God created us to love Him.

God will always love us, even when

we make wrong choices

God promised to send His Son, Jesus.

God had a special plan for Jesus.

God promises to help me.
To register your children for VBS with Fletcher First Baptist Church, you will need to fill out a registration form for each child.
Click the link below to get started. A page will open with the registration form for children and adults. From there, you can click the individual text fields on the form to fill them out. After that, simply print it off and bring it in to the church office or you can email it to: